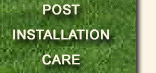 Lay the Sod
Sod should not remain on the pallet or stack for more than 36 hours. The presence of mildew and distinct yellowing of the leaves is usually good evidence of reduced turf vigor from being stacked too long.

To lay the sod, start with a straight edge such as a driveway or sidewalk. Unroll sod pieces tightly against each other, but don't overlap.

Using a sharp knife, cut pieces to fit curves or small areas.

After sod has been laid, roll it to ensure good contact with the soil.

Be sure to water thoroughly, and water every day.
Call Lena Sod Farm at 920-984-4072